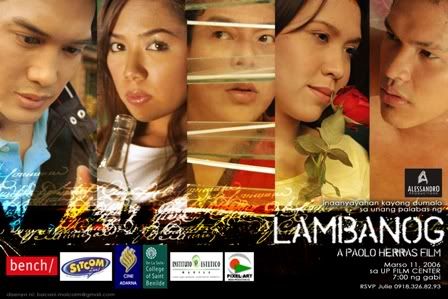 Taken from the presskit:
Lambanog is a collection of the intertwined sensory stories of Mark (Luis Alandy), as he goes back to visit his best friend Eric (Lauren Novero--"Dodong" in ZsaZsa Zaturnnah) in their hometown of Los Banos, Laguna. He passes by his old home and meets Rico (John Lapus), the landlord. After, Mark buys a bottle of lambanog from Maria (Danica Sotto), a mysterious lambanog vendor. During the drinking session, Eric introduces his new girlfriend, Hasmin (CJ Mercado).

Each character has a love story to tell, and when the alcohol level gets high, it brings out more secrets than what these characters would want to tell.

The film's setting is by the feet of the mystical mountain of Maria Makiling. It is this mysticality and this rustic milieu that coincides with the Filipino experience of storytelling as magically real in the film.
About the director/writer:
Paolo Herras, 24, a BA Comparative Literature graduate and a M.A. Philippine Studies student at UP Diliman is the 3rd Prize winner of Star Cinema's 1st Scriptwriting Contest. He is also a part-time faculty at the DLS-CSB where he teaches under the Arts Management Program of the School of Design and the Arts.
Paolo was also my batchmate in the 11th Ricky Lee Film and TV Scriptwriting Workshop. Lambanog comes after the other full length film debit efforts of other batchmates JP Carpio (
Balay Daku
),
Sigfreid Barros-Sanchez
(Cinemalaya's Lasponggols and Cinema One's Anak ni Brocka),
Shugo Praico
(who wrote the script for
Sa Aking Pagkagising sa Kamulatan
) and Gabby Fernandez (
Nasaan si Francis?
).
For some backstage photos click
here.
Photos swiped from the film's graphic artist's
livejournal
.
Lambanog has an advanced screening today at the UP Film Institute, 5 and 7pm. Tickets are at Php110.